We are on a mission to gather any tips we can on our cheap rving blog, to give you ideas on how to be frugal where health care is concerned.
One such tip is how to save money on basic prescriptions, for you or your pets (hint one: ask your vet to write prescriptions to be filled at your pharmacy! If they won't, find another vet…).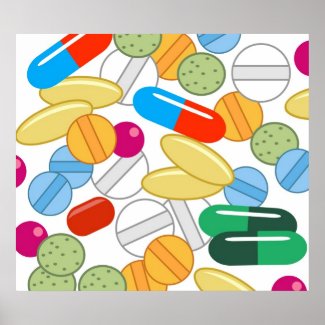 Medication Posters
by
prawny
Buy custom poster
online at Zazzle.
Fortunately, we rarely have need for prescriptions – we are usually successful treating infections with "natural antibiotics" like garlic, maitake mushroom or oregano oil. Having allergies to many antibiotics (or finding myself sicker after taking them) this was a necessary switch for us.
That said, there are times when an rx will be necessary.
***oh, oh…hint two: the key to cheap rv life is to be prepared for the "will be" part, not to panic, overpay and scurry around when you are sick or in need of medications!!
So today's tip is for you to study this Walmart list. They have a large catalog of discounted generic medications available, which you can see HERE.
You can either type in the name of your current prescription and they will show you the generic they have (or tell you they don't have it) OR you can just browse their list. Most prescriptions are $4 for a 30 day supply or $10 for 90 days. The download list is very organized, separated by ailment/condition – good to print out and keep on hand if you have to go to a health clinic, so you can ask if any of the medications are appropriate.
I was surprised to see not only antibiotics, there are meds for pain, cholesterol, blood pressure, asthma, diabetes, stomach, skin, eyes, mental health, women's health and more. So start putting together your "medical plan" for frugal health care on the road…and start with the Walmart four dollar list of medications.
Post Footer automatically generated by Add Post Footer Plugin for wordpress.