One of our favorite types of food is Mexican. I started making a one pot Mexican dish when we first moved into our travel trailer, and we made it a regular on our meal plans. The ingredients are inexpensive, and it really can be made with one pot. Add a salad or coleslaw and you've got a great meal for 2, and lots of leftovers. The "surprise" part comes in when you're making variations on the theme for something different, or using up items that you have on hand.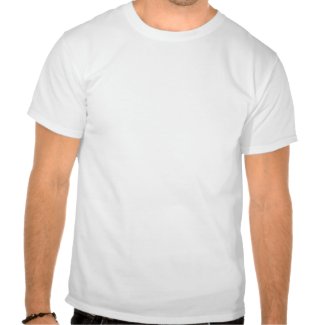 RV Chef Tee Shirts
by
RVChef
Design your own
photo t shirts
online at Zazzle.
basic ingredients: rice, 1 pound of ground meat, 1 can of beans, grated cheeses, minced garlic, onion, green or other color peppers, small can diced tomatoes
optional ingredients: black or green olives, pickled jalapenos, mushrooms, etc.
how to make it: While most of the main ingredients of the recipe don't change, the type of meat used can vary according to your tastes. We have used just a pound of ground beef, but we like to throw in a link of chorizo, and you can also use sausage, ground pork, or ground turkey if you like. You can also add chicken or shrimp as well – be creative. The type of beans used is also your choice – we like red or black, but have used pinto beans before too.
The idea of a one pot meal is that you cook in the same pot in stages when possible. You'll need a large bowl or plastic container to put intermediate stages into until you're ready to put it all together. This container can be used afterwards for leftovers if you have any.
First, let's make the rice. Pour a tablespoon or 2 of good olive oil or other cooking oil into a large and deep skillet or wok-shaped pan with a tight-fitting lid. After heating it up a little, add 1 cup of long grain rice dry and unrinsed. Let the rice fry, stirring constantly, until it's just starting to get brown. Add some salt and garlic powder or salt. Open the can of diced tomatoes, pour off the liquid into a measuring cup, and add water to fill to 2 cups of liquid. Pour this into the rice, let it come to a boil, put the lid on and turn the heat down to the lowest it will go. Let the  rice cook, do not remove the lid and do not stir. After 15-20 minutes, inspect the rice and try a grain. Turn off the heat if it's almost done and let it sit for another 15 minutes, or let it cook a bit longer and then turn it off.
Remove the cooked rice to a container for storage. Wipe out the skillet with a paper towel. Brown the meat with some chopped onion and minced garlic – add the chopped peppers at this point if you use them, and any other optional ingredients. Turn the heat down and cook until everything is done to your desired degree. Drain or spoon off the fat when the meat is done.  Open the beans, drain off the liquid, and add to the meat. Add the tomatoes and stir it all up. Any other additions can go in now. Add the rice and mix thoroughly. A good quality Mexican spice mix should be used to season the mixture well, or a combination of cumin, chili powder, and cayenne to taste. After it's all mixed and heated up, add half of a 2-cup bag of shredded cheddar or other cheeses and mix it in. Cover the top with the rest of the cheese, turn off the heat and let it sit for 10 minutes or so. Serve with tortilla chips or tostadas, sour cream, salsa, and hot sauce. Ole!
Post Footer automatically generated by Add Post Footer Plugin for wordpress.